Home
>
Video Solution
> Top 5 MacTheRipper Alternatives
Top 5 MacTheRipper Alternatives
Finding a top video convertor with all the functions embedded is no less than a boon. It not only makes the life of the user easy but also gets the required results.
MacTheRipper is perfect when you're looking to extract video from your DVDs, so that you can play them anywhere else. Although the interface will look a little confusing at first you should only focus on the 'Disc' and 'Mode' tabs. The first one allows you to select the regions you want the video to work in, and select which actions to disable while ripping your DVD.
The 'Mode' tab allows you to select your extraction mode, whether it's full disc, a certain chapter or a particular title. Once you're happy with your selection you just need to press 'Go!' and let MacThe Ripper do its work. The process is generally fairly quick.

IMPORTANT: MacTheRipper free version does not work on Lion. However, the project has been continued as a paid version in the form of MTR which does work on Lion. And, MacTheRipper is not able to encode its rips to other formats. It needs a third party software to convert VOB to other formats.




To find alternatives is a great practice which ensures that a user never relies on a single program that can give issues and problems. These alternatives are actually backups which make a user contented with the passage of time. It is therefore advised to get the best out of the program by fining the alternatives that are closely related to it. Well, More than 5 alternatives to choose: iMedia Converter for Mac, DVD Ripper for Mac, Format Factory, MakeMKV, DVD Shrink and more.

Top 1: Brorsoft iMedia Converter for Mac
Below given is the Guide that will help you to download Brorsoft iMedia Converter for Mac
http://www.brorsoft.cn/mac-imedia-converter/
1.
Being at the top of the list, Brorsoft iMeda Converter for Mac is a powerful application that has been embedded with 250+ formats to support the conversion process in full.
2.
The converter also has a media center that seamlessly make it possible for the user to get the best and the state of the art process handling in relation to media as well as the file transfer making it easier than ever.
3.
The program has a processing speed that is 30X faster as compared to any other converter that is available on the internet.
4.
Provide 150+ video presets for iPad, iPhone, Apple TV and more
5.
The program also acts as a video player which could be used to play any format of the video a user can think of.
6.
Trim your video or extract your favorite scene;
- Join multiple video or audio clips into one file;
- Rotate vertically oriented video with a single click;
- Add image watermarks or text watermarks into videos;
- Load external subtitles to your movies;
- Change video visual effects, adjust brightness, saturation, etc.
Top 2: Brorsoft DVD Ripper for Mac
Download Link:
http://www.brorsoft.cn/dvd-ripper-mac/
It works as
Handbrake alternative
, MacTheRipper alternative that enables you to rip and convert any protected DVD, DVD ISO, VIDEO_TS to almost any video format including not limited to MOV, MKV, MP4, AVI, WMV, M4V, MPG, 3GP, FLV on Mac. It also comes with a bunch of optimal presets for iPad, iPhone, Galaxy Tab, Nook HD, Apple TV, PS Vita, Nexus 7, Surface tablet, Nexus 10 etc iOS, Android, Windows based media devices. Meanwhile Brorsoft provides excellent customer support service, including lifetime free upgrade of product and technical support.
(Note: Click
here
for OS X 10.5)
Note:
It only can help you to rip DVD files such as DVD Discs, DVD ISO, IFO, BUP, Video_TS files.
• It is one of the very few convertors which supports the RMVB files which means a very large support
• There is a very large range of formats and devices that could be converted using the program. It also supports iDevices as well as Android technology.
• The overall functionalities are easy to understand and the user can make use of the program without any hassle
Download link:
http://format-factory.en.softonic.com/download
Note:
Even though Format Factory is free and multifunctional, it is only support Windows system, limited to convert video files and uncrypted Blu-ray and DVD.
Top 4: MakeMKV
MakeMKV
is a program designed for ripping DVD and Blu-Ray disc video. It works by decrypting proprietary discs to transfer codecs from the formats VOB and M2TS into MKV, preserving the necessary data without doing any lossy codec conversion. The MKV format was chosen because of Matroska's goal to make a file format that acts like a DVD, with its simple container design to store any amount of video/audio tracks, with all meta-information including chapters. MakeMKV can also stream the output.
Download link: http://www.makemkv.com/download/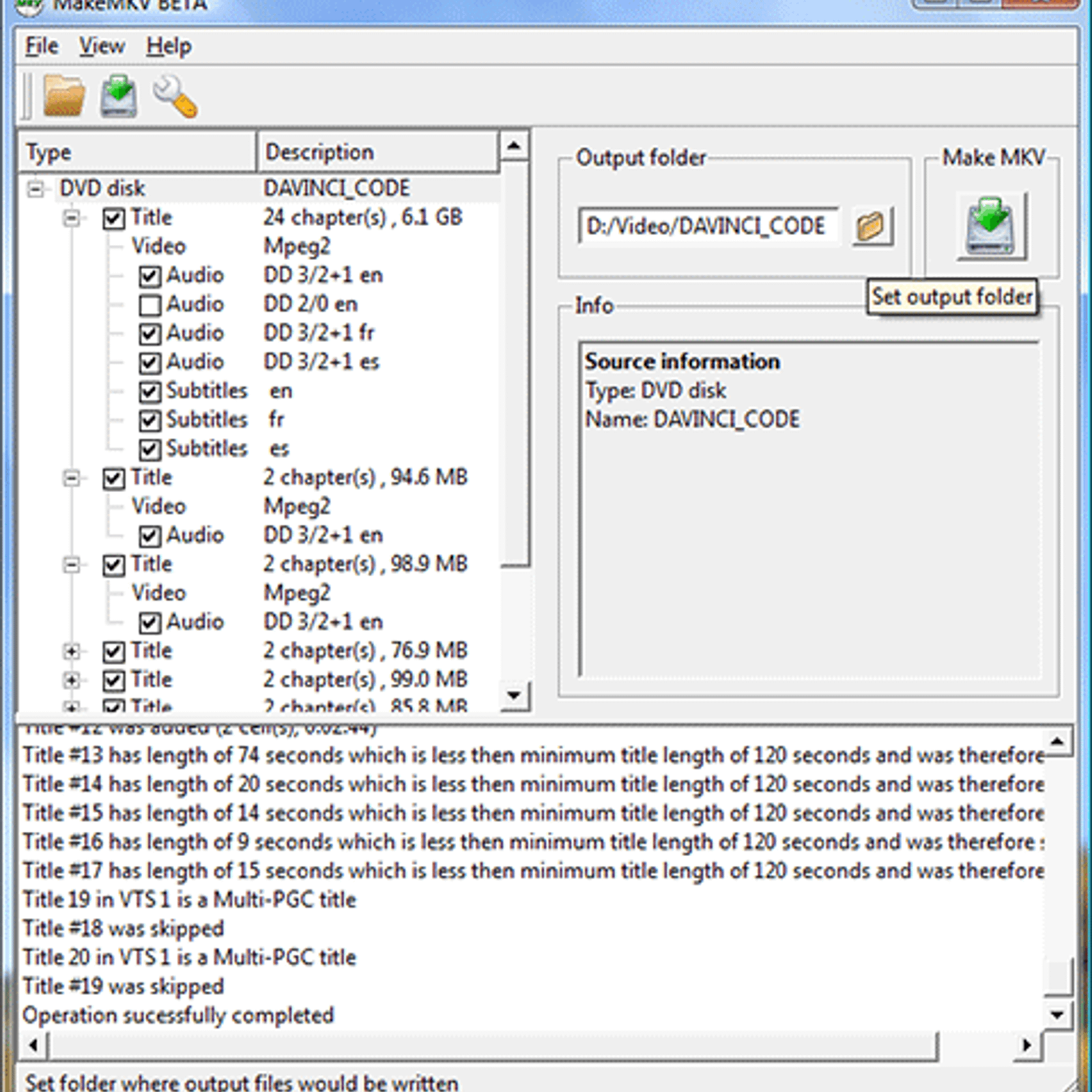 Note:
While, it is only free under a beta version and only supports MKV as output. Plus, some users complained MakeMKV is not working with Mavericks.
Top 5: DVDShrink
DVDShrink
is software to backup DVD discs. You can use this software in conjunction with DVD burning software of your choice, to make a backup copy of any DVD video disc.
DVDShrink will also burn your backup DVD, if you have installed the latest version of Nero. If you already possess alternative burning software and prefer to stick with it, then you can still use DVD Shrink. The output from DVDShrink can be saved as files on your hard drive, which you can then burn with software of your choice.
Download link:
https://dvd-shrink.en.softonic.com/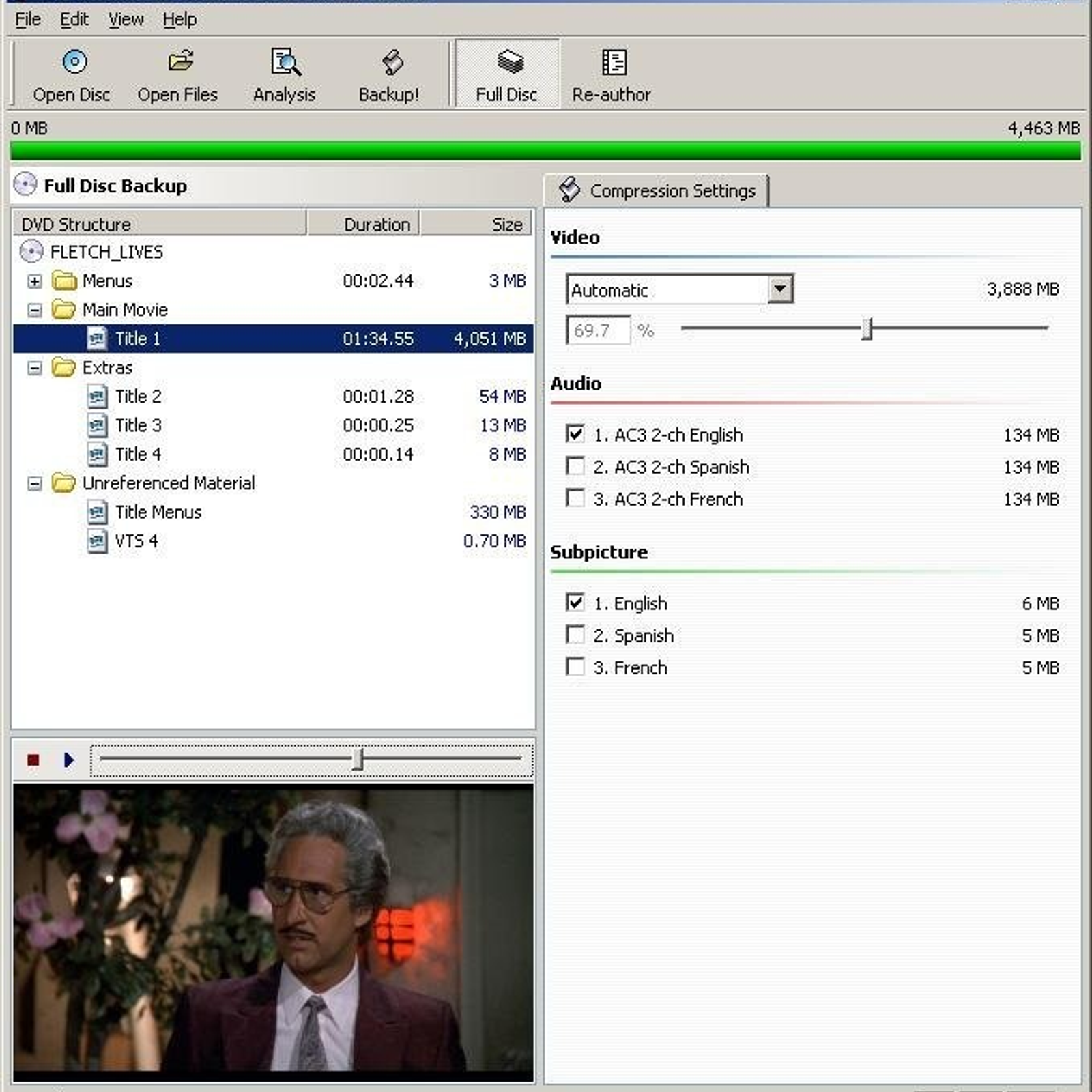 Note:
DVD Shrink is no longer updated and you can not ripping and copying DVD after you upgraded to Windows 10.